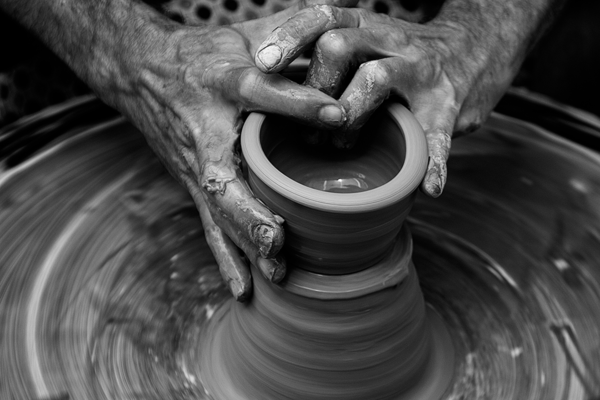 My dad went to heaven in April of 2016. It's a strange new experience to realize that for the first time in your life that Daddy's gone. It's what C.S. Lewis called a "severe mercy," difficult and wonderful all at the same time. I am a grateful son; thankful to have had such a father and such a friend as was Hansen Harold Andrews.
A Man of Steel
Daddy was a stern disciplinarian. My first memories of him are those in which I'm either hiding in fear or running for my life. Though we didn't appreciate it at the time, we kids grew up in an era ruled by Dad. He was the undisputed head of our home. And because of his own upbringing, he didn't know how to express love or exercise it in discipline. It was more like the Sword of Damocles than a rod of correction. But he did the best he could, and God honored that–because all his kids still love and miss him. We're all grateful…though perhaps only slightly psychologically damaged.
Pa was a man of steel in more ways than one. Not only did he work in iron, he was made of the stuff. He drew the lines and never, ever budged; not an inch, not for a second. I can only imagine where I'd be today had I been raised by a weaker man—by a man who easily gives up or gives in. I'm pretty sure I wouldn't be here. Looking back now I see that God knew I needed a father with a force of character greater than my rebel spirit. To be sure, there were some hard times at 2625 Pine Summit Drive East in Jacksonville, Florida. Times when the only word to describe my feelings toward him was hate. Yet the Lord was gracious in honoring the faith of a man whose motive was pure though his method was rough.
From Enemy to Father to Friend
Eventually, God brought this poor, angry, messed up kid to the cross. It was in a grocery store that Jesus met me, and in the light of that meeting my heart with all its sinful ugliness was revealed. But his grace was greater than all my sin and in repentance and faith I was made new—and all the pain, anger and hate rolled away down Calvary's hill and into an empty tomb.
That night at the dinner table, some 45 years ago, I tried to explain to Pa what had happened to me but couldn't. The tears just flowed. What I remember most was Daddy coming to my room, embracing saying, for the first time I could remember, I love you son. That day the sweet balm of God's grace flowed into old wounds and brought healing to the both of us. He went from being enemy to Father to friend in a brief moment of reconciliation and love.
What I have learned since then is that the Lord works in and through his children to accomplish his perfect will for our lives. And while I know that God used Daddy to shape the lives of his kids, I also know that God used all of us in different ways to teach him some hard-learned lessons. There's nothing like having kids to teach a man complete dependency on God.
Remade by the Great Potter
But the greatest humbling for Daddy came through his marriage. I will not go into detail except to say that it was the Lord who saved their marriage and brought a very stubborn man to his knees. He was a hard man from a generation of hard men, but it took almost losing his marriage to break his iron will. I will never forget that day. He called me and asked me to meet him in downtown Jacksonville at a sandwich shop for lunch. At some point in our conversation he said, "Well, I found out what the problem was." I remember asking, "So what's the problem Daddy?" At that point his eyes filled up and spilled over and unable to say a word he simply began pointing to himself. When he could speak he said, "I've been the problem for 37 years." Thanks Mom, for hanging tough and sticking with him.
Jeremiah talks about the potter's vessel being marred in his hand, but the potter removed the defect and made it again, another vessel as it seemed good to the potter to make it. (Jeremiah 18:4) Daddy had been transformed in the hand of the Great Potter, and we all saw it. By God's grace, the man who had trouble expressing love became one of the most loving men I've ever known. It was a beautiful thing.
By God's grace, the man who had trouble expressing love became one of the most loving men I've ever known.
I share all this with you because I believe that's what he would want me to do. He'd want everyone to know how God had changed him, and that it's only by grace he came to be the man we all knew and loved. He'd want you to know that God loves you, and that God can transform the hardest heart; he can heal broken lives and restore broken relationships. He'd want you to know how God did it for him and how he wants to do the same for you.
Devoted to God's Word and Prayer
Daddy was a man of prayer. Morning and evening, he faithfully met God on his knees. I would often call and ask him to pray about something because I know the effective, fervent prayer of a righteous man avails much. A dear friend recently told me, whenever I heard your dad pray at church, it was like listening to a sermon. He was also a man of the Word. Daddy, with an 8th grade education, knew the Word of God as well or better than many Bible professors I've had in college and seminary. And of course, those who knew Daddy knew his spiritual gift was evangelism. If he spoke to a stranger for more than two or three sentences you just knew Jesus was about to become part of the conversation.
A Legacy of Perseverance and Faith
So with a heart of gratitude I want to honor my dad, a good and godly man. Knowing a little of his background helps you see that it was truly a miracle of mercy that brought our family together and blessed us beyond anything I could have ever imagined.
Pa would always remind me to be good to Judith because God was good in giving her to me. He reminded me over and over and over again, to be thankful for her because she was and is such a wonderful blessing to my ministry as a pastor. Yeah, I know Pa…and I won't forget…because I can still hear you saying it.
As I ponder Daddy's life, these are the things that come to my heart. At age 64, my own mortality is a daily reality. I kid with Judith all the time, "We'll be dead before we know it." But death is not something we fear or dread. It's only a passage to the life that never ends. No goodbyes will there be offered, for time won't matter anymore. Vance Havner said, "You haven't lost anything if you know where it is." We know where Daddy is. To be absent from the body is to be present with the Lord. And I was thinking about how it was for Daddy on that Thursday afternoon when he made the crossing. I wondered if maybe my uncle Clint was there to meet him. What a sweet reunion that must have been.
So, Pa, thank you for being my dad. Thank you for persevering through the hard times, for being pliable in the hands of the potter, for loving and praying for us, and leaving us a legacy of faith. The Apostle Paul, as the curtain of his earthly life was about to fall, wrote from a dark, dismal prison in Rome to young pastor Timothy in Ephesus. With peace and great confidence he wrote: "For I am already being poured out as a drink offering, and the time of my departure has come. I have fought the good fight, I have finished the race, I have kept the faith. Henceforth there is laid up for me the crown of righteousness, which the Lord, the righteous judge, will award to me on that Day." (2 Timothy 4:6-8)
I believe it was the same for Hank Andrews, whose life was faithful to the end, so that we also can say with great confidence: "A fight well fought, a course well run, a faith well kept, a crown well won."
On this Father's Day, I pay tribute to the man who touched my life in a profound way.