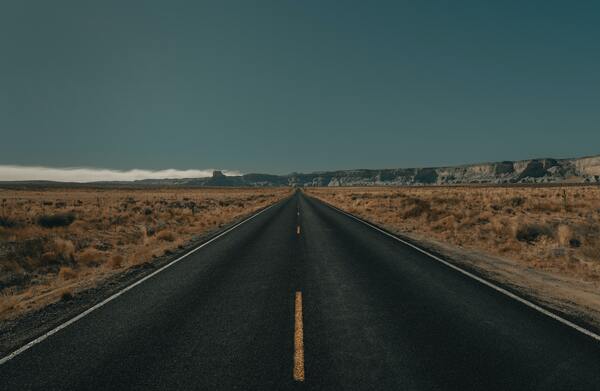 Years ago, our family was driving down the Garden State Parkway when we decided to get off and find a place to grab a bite. We ended up lost in a seedy neighborhood in the middle of Patterson, New Jersey. We were completely unaware of Patterson's reputation for crime and violence. Just moments after we stopped to figure out where we were, a police officer pulled up beside us wanting to know what we were doing. When I explained he said, "You shouldn't be here, follow me." He then led us out of Patterson and back to the parkway where we continued our journey.
I now look back on that family detour as an example of how God cares for us and protects us when we wander off course. It's easy to forget this world is a dangerous place and that we're just one wrong turn from doing irreparable harm to ourselves, our families, and the cause of Christ. Like sheep, we have a tendency to go our own way which often leads to disaster. "There is a way that seems right to a man but the end thereof is the way of death." (Proverbs 14:12)
How can we make sure that we're following the good Shepherd? Is it that we never find ourselves in trying situations? One lesson I've learned as I've been preaching through Exodus is that God often leads us into difficult places. He does this so that we might learn to be satisfied in him, to trust him, and that he might be glorified in the outcome.
So, how can you be confident that God is still leading you, even when you find yourself in the middle of some great trial? I would encourage you to do four things:
1. Daily acknowledge your need of God's guidance.
Too often guys head out into their day without ever stopping to ask for God's direction. Failing to admit your need for God's guidance is an exit ramp off the highway of humility. It's our pride that keeps us from acknowledging our complete dependence on the Lord for everything.
Failing to admit your need for God's guidance is an exit ramp off the highway of humility.
2. Daily ask for God's guidance.
Once we acknowledge our need, we can ask for God's direction. Make it a daily practice to prayerfully seek His wisdom for every decision, his protection for every temptation, and his strength to stand for what's right. Start each day by spending time in God's Word which is "a lamp unto our feet and light to our path." (Psalm 119:105)
3. Daily accept God's guidance.
God doesn't guide us by our feelings. We walk by faith. It's not the proverbial quiver in the liver type of thing. There's nothing spooky about following Jesus. He guides us by His Word which is like a spiritual road map. Simply put, God guides those who obey him. Having admitted your need and having asked in sincere faith, go forward in the assurance that he is "directing your path." (Proverbs 3:6)
4. Daily persevere in obedience.
Remember, the Lord may lead you into a howling wilderness. Coming out of Egypt, Israel was led by God to a place between the Red Sea and the Egyptian army. Recounting this the psalmist wrote: "Your road led through the sea, your pathway through the mighty waters— a pathway no one knew was there!" (Psalm 77:19) It's those times that God ask us to trust him. Persevere in faithful obedience and you will discover that the path, those you may not see it, is there.
Don Moen's song says it well:
God will make a way where there seems to be no way.
He works in ways we cannot see; He will make a way for me.
He will be my guide, hold me closely to his side
With love & strength for each new day
He will make a way.
Finding confidence in God's guidance amidst trials.