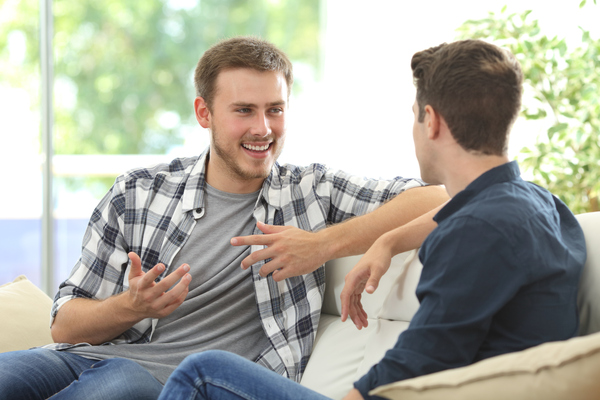 Last week my focus was on James' exhortation to be "quick to hear" (James 1:19), and how we can better prepare ourselves to hear God speak to us through his Word. Today, our focus will be on the second part of the verse, where James instructs us to be "slow to speak." The theme of James' letter is that true faith will always impact the lives of those who have it. As Martin Luther said, "We are saved by faith alone, but the faith that saves is never alone."
One evidence of saving faith is how we use words. James is very straightforward in his own words on this point. "If you claim to be religious but don't control your tongue, you are fooling yourself, and your religion is worthless." (James 1:26 NLT) One of the signs of spiritual maturity is that we say more but talk less.
Here's a few thoughts on how we can learn to talk less but say more.
1. Understand the power of your words.
In chapter 3, James deals specifically with how powerful an impact the tongue can have on every part of life. I would urge you to read through that chapter to remind yourself how important it is to bridle that little member. All of us can recall times when words uttered to us or about us have inflicted deep heart wounds. Such wounds often leave scars on the soul for life as they remain permanently etched on the wall of memory.
For example, if you're a father, think of the great power you have to bless or to curse your children. "I'm so proud of you," "great job," or "I'm so thankful I get to be your dad" are simple but powerful affirmations for a son or daughter. Whereas words like, "you never do anything right," "how can you be so stupid?" or "go away, I'm busy," potentially do great harm to a child's psyche.
Jesus said, "by your words you will be justified, and by your words you will be condemned." (Matthew 12:37) He taught that what comes out of our mouths reveals what's in our hearts. It should give us serious pause to know that we're going to give an account of our words on the day of judgment, even those carelessly spoken.
2. Purposely reduce your words.
Most people know what it means to "bite my tongue." However, instead of curbing our tongues, we oftentimes let them loose. Becoming a person who is "slow to speak" requires a great deal of restraint and we must constantly rely on the Holy Spirit to tame the tongue. As James tells us, "The tongue no man can tame" and thus, we must constantly rely on the Lord, praying with the Psalmist, "Set a guard, O LORD, over my mouth; keep watch over the door of my lips!" (Psalm 141:3)
Studies show the average person will speak about 7,000 words a day. That is equivalent to 25 pages of written manuscript. In one year, you produce forty-five 200-page volumes in the library of your words. The Bible says he who restrains his words is wise. Set a goal to reduce the words you speak. It's a spiritual discipline that will yield great reward.
3. Personally test your words.
The Bible says, "Let your speech always be gracious, seasoned with salt, so that you may know how you ought to answer each person." (Colossians 4:6) Just as salt accentuates the taste of food, so grace will make your words easier to receive. Words seasoned with grace come from hearts that have recognized the grace of God they, themselves, have received. So, here are a few questions to help you determine whether you should speak or remain silent.
• What is my motivation? Are my words self-focused, an attempt to make myself look better than I am?
• Is it necessary? Does it need to be said? Do people really need to hear this?
• Is it appropriate? Is this something that would be better spoken in private? Is this the right time and place for speaking these words?
• Is it edifying? Will my words build up or tear down? Will they encourage, enlighten, and bless others?
• Is it true? Of course, we should never repeat words we don't know are true, much less that which is false. And, even if something is true, it may be better left unsaid.
• Would Jesus say this? Would he be pleased with you for saying it?
There is a prayer from Psalm 19 that I often pray at the close of my devotions, and I would encourage you to join me in the practice. David prayed, "Let the words of my mouth and the meditation of my heart be acceptable in Your sight, O LORD, my strength and my Redeemer." By the grace of God may we be men who talk less but say more.
Three thoughts on how to talk less but say more.