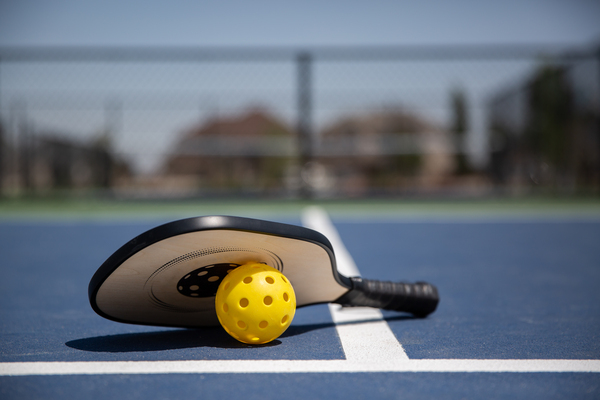 In the summer of 1965 on Bainbridge Island in Washington State a disgruntled 13-year-old complained to his dad that there was nothing to do. The dad, Joel Pritchard, suggested making up a game. "It's what we used to do when we were kids," he said. As the story goes, Joel's son, Frank sarcastically responded, "Oh really? Then why don't you go make up a game." He did. It's called Pickleball. So named by Joel's wife, Joan, after the left-over rowers in "pickle boat" races.
Unless you've had your head in the sand for the last few years, you're most likely aware of the pickleball craze growing by leaps and bounds across the country. Now more than 60 countries make up the International Federation of Pickleball. Go to any sporting goods store and you will find everything you need to play. In 2021, due to the explosive popularity of the game, sports celebrities and investors formed a professional Pickleball league. There's even a Pickleball magazine.
According to Pickler, the official website for the sport, celebrity involvement is helping fuel its growth. Bill Gates has stated that he's been playing Pickleball for 50 years. Former president George W. Bush has also been playing for years. NBA stars LeBron James and Kevin Love purchased ownership in a Major League Pickleball expansion team. This summer NFL legend Drew Brees also joined an ownership group.
As a rank amateur, I'm pretty new to the sport but do intend to keep playing. Here's a few reasons why you may want to join in.
1. It's just plain fun.
Pickleball is not complicated or overly intense. Sure, it can get competitive, but overall it's simply good, clean fun. It's easy to learn and if you're stressed out and need to blow off some steam, pickleball will serve you well. It's readily available wherever you live. With more than 35,000 courts springing up nationwide it's the fastest growing sport in America.
2. It's for all ages.
Pickleball can be a wonderful family activity and a great way to connect generations. I've played with my kids and grandkids. Pickleball is a healthy activity for kids who need more time off the couch and away from those ubiquitous screens. And these days, anything that helps bring families together is a good thing.
3. It's great exercise.
Pickleball is also a great way to improve your cardio-vascular health. As Christians, we understand that our bodies are the temple of the Holy Spirit and that we are to steward them so as to serve the Lord as effectively as possible for as long as possible. Pickleball is one way I'm planning on doing that.
Finally, let me issue a gentle warning: there are pickleball fanatics that take the sport too far. Their obsession with Pickleball has taken priority over more important things. We need to remember that anything can become idol if it takes precedence over our relationship and service for Christ.
A few reasons why Pickleball may be for you.