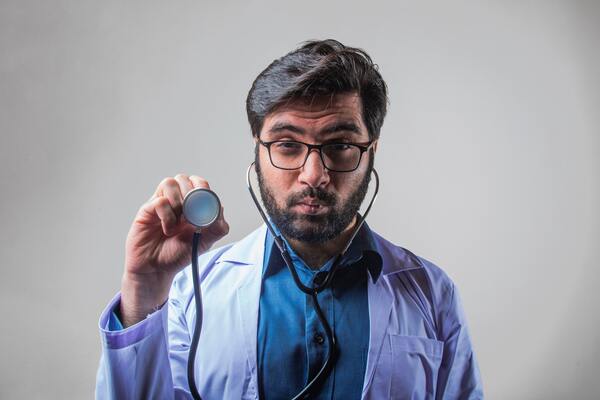 The expression "just what the doctor ordered" means that you got exactly what you needed. Sadly, most people don't do what the doctor ordered.
It's been reported that 90 percent of all patients fail to finish their round of antibiotics, enabling bacteria to mutate into more resistant forms. They also cheat on their diets and take other unnecessary health risks. One study found that teachers are most apt to disregard physician's instructions, opting to modify them based on their own research. Young executives are also prone to do just enough to get by. Given their mentality of following instructions to the letter, the study found that engineers make the best patients.
I once questioned my doctor's advice, offering my own opinion, and he immediately was on to me. He said, "Look, don't compare your Google search to my medical degree." I deferred, followed his orders, and since then, I've been well. Or at least as well as can be expected for a sexagenarian (look it up).
The human tendency to modify or disregard medical instruction does the same with spiritual instruction. Nowadays, many have become their own authorities as to what is best, not just for their bodies, but for their souls. These people go to church, hear God's Word, and then decide what they'll take away and what they'll leave behind; what they'll obey and what they'll ignore.
Our Lord once told the scribes and Pharisees that "Healthy people don't need a doctor—sick people do." (Luke 5:31 NLT) And therein lies the problem: many people just don't think there's anything wrong with them. Multitudes of churchgoers attend Sunday services thinking they're spiritual healthy when the truth is, they're all really sick. They've all been infected by sin and need the Great Physician.
We need to realize that this Doctor of souls knows our history, has been faithfully practicing since time began, and loves and cares for every one of his patients. Whatever he prescribes is for our good. His Word is like an x-ray machine that exposes the true state of our hearts, and his Spirit diagnoses the problem and prescribes the needed treatment.
To ignore what the Great Physician orders because you suppose you know better is foolish, even dangerous.
Consider these verses:
• "Moreover, by [law of the Lord] is your servant warned; in keeping them there is great reward." (Psalm 19:11).
• "Everyone then who hears these words of mine and does them will be like a wise man who built his house on the rock." (Matthew 7:24)
• "But be doers of the word, and not hearers only, deceiving yourselves… But the one who looks into the perfect law, the law of liberty, and perseveres, being no hearer who forgets but a doer who acts, he will be blessed in his doing." (James 1:22,25)
Following his instructions brings spiritual health with all its blessings. Obey him and you soon discover it was just what you needed.
The Great Physician always prescribes for our good.