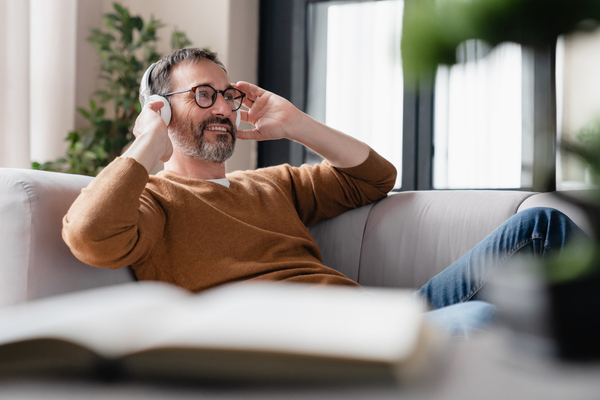 It's no random coincidence that James, writing to believers experiencing hardships and trials, follows with an exhortation to hear God's Word. God often uses hard times to get our attention. C.S. Lewis said, "God whispers to us in our pleasures, speaks in our conscience, but shouts in our pains."
We are never more vulnerable to acting, or reacting, in the flesh as when we fall into difficult, even distressing situations. Thus, we are instructed to "be quick to hear, slow to speak, slow to anger, for the anger of man does not produce the righteousness of God." (James 1:20-21) I want to focus on the first part of that verse about being "quick to hear." The Amplified Bible adds, "be a careful, thoughtful listener." (I'll follow up on the rest of the verse next week so, stay tuned.)
In the 1st century context when James was written, this letter was most likely read out loud to a gathering of Christians in a private home. When James directs us to be "doers of the Word" (see James 1:22), he's speaking of the gospel message communicated orally since the New Testament canon did not exist at that point. Since James' letter is considered the earliest book of the New Testament, most (if not all) the knowledge of Jesus' teachings and the apostles' instructions was received orally. Therefore, listening became an imperative.
As prolific the abundance and availability of scripture today, there is still a great need for us to listen carefully to God's Word. In our over stimulated culture, it has become increasingly difficult to focus our hearts and minds on what God has to say to us. We all know what it is to read the Bible without hearing it. So, when we read the Bible, hear a sermon, or attend a Bible class or study, how can we train ourselves to hear from God?
First, it must be said that our hearts must hunger for God's Word. The gospel message can only be effective in our lives as we constantly hear it and preach it to ourselves. We have got to understand how vital this is in our daily walk. Jesus himself answered Satan's temptation saying, "No! The Scriptures say, 'People do not live by bread alone, but by every word that comes from the mouth of God.'" (Matthew 4:4)
Second, always begin with prayer. The Psalmist prayed, "Open my eyes, that I may behold wondrous things out of your law." (Psalm 119:18) Eli instructed young Samuel to say, "Speak Lord, for your servant is listening." (1 Samuel 3:10) Before you dive into that daily Bible reading schedule, pause and tell the Lord you're not only listening but ready to submit to whatever he says to you.
Before you attend that Bible study or hear the sermon on Sunday, ask the Lord to give you "ears to hear what the Spirit is saying to the church." (Revelation 3:22) And remember, hearing implies application, being a "doer of the word." I shudder to think how many Christians become "forgetful hearers" and depart church each week in a state of self-deception. Jesus instructed his hearers, "take heed how you hear." (Luke 8:18)
Finally, reduce digital distractions. The average person checks his phone every 12 minutes during waking hours. In our digital world, "Continuous Partial Attention" (or CPA) has become a way of life. "By adopting an always-on, anywhere, anytime, any place behaviour, we exist in a constant state of alertness that scans the world but never really gives our full attention to anything," wrote Harriet Griffey in The Guardian.
Constant interruptions hurt your ability to concentrate. Research has shown that it takes about 15 minutes to resume an interrupted activity at the same level of concentration. Other research reveals that constant interruptions lowers IQ and has the same impact as losing a night's sleep. If you get fidgety after reading a few pages and start thinking about other things, it may be time to ditch the distractions and retrain your brain.
Without question, one of the devil's devices is distraction. Unfortunately, he knows the power of God's Word better than many Christians and he fears the Sword of the Spirit. He will do all he can to distract your attention from the Word. And remember, such distraction may be the very reason why some have no appetite for God's truth.
In an over stimulated world how can we train ourselves to hear from God?