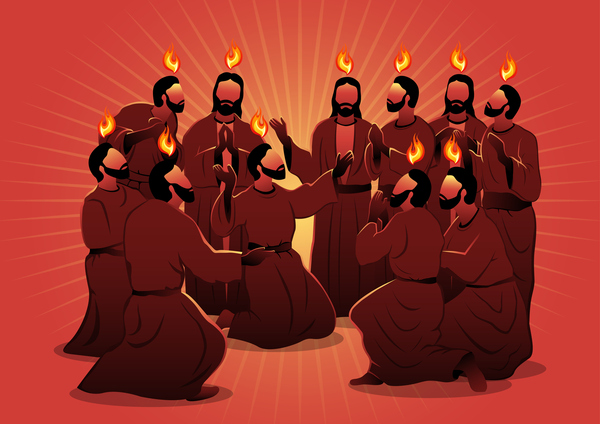 Then, what looked like flames or tongues of fire appeared and settled on each of them. (Acts 2:3 NLT)
There is nothing that sets the Christian apart from this world more than this amazing truth that God indwells him. It's also amazing because God's presence in the Old Testament often appeared in the form of an unapproachable fire. Those to whom the Lord appeared in flame would fall on their faces, remove their sandals, and even cry out in fear.
However, after Jesus' atoning work on the cross, a new access to God became a reality for all believers. The "tongues of fire" that appeared on the disciples in that upper room on the day of Pentecost represented a new union with God. The barrier between a holy God and sinful man was removed by our Lord's atoning death so that he now dwells with and in his people.
Nowadays, to say someone is "on fire" is an idiom that can refer to a person in a state of excitement, an athlete playing at the highest level, or to someone's physical appearance. Considering the scene at Pentecost, "on fire" seems like an appropriate description of Christians. Unfortunately, the Spirit can be present without being prominent.
What we desperately need to know is that the fire still burns, and God's presence is no less real in the lives of his people today. The Spirit of God dwells within us and our body is a holy temple for the divine presence. We must yield control of our lives to him daily so that we, like those early disciples, can be men on fire. What does that look like? What does it mean to be sons of that holy flame?
1. An active pursuit of holiness.
A man on fire for the Lord removes from his life anything and everything that is not in accord with God as he is revealed in Scripture. It's a moral flame that burns in the heart of every man who seeks after God. He takes seriously the Lord's command "be holy for I am holy." (Leviticus 11:44) A man on fire is more concerned with holiness than happiness. He cleanses himself from "from every defilement of body and spirit, bringing holiness to completion in the fear of God." (2 Corinthians 7:1)
2. A deep sense of joy.
A.W. Tozer wrote, "The work of the Holy Spirit is to rescue the redeemed man's emotions, to restring his harp and open again the wells of sacred joy which have been stopped by sin." It is an unscriptural notion that supposes men on fire for the Lord are always stern, serious men who have no capacity to enjoy life. Those Pentecostal saints were filled with gladness! Their joy was overwhelming with not a trace of sadness or self-deprecation. The joy they experienced was as miraculous as the resurrection itself for by it God's own delight now resided inside them.
The joy they experienced was as miraculous as the resurrection itself for by it God's own delight now resided inside them.
3. An expanded degree of thought.
Men on fire for the Lord think great thoughts of him. Charles Spurgeon once said, "nothing will so enlarge the intellect, nothing so magnify the whole soul of man, as a devout, earnest, continued investigation of the Deity." Consider Daniel, set on fire by the heat of his own conviction, and note how his prayers exhibit a depth of perception of God and his sovereignty. Men who walk in the Spirit raise their thoughts above the mundane and set their minds on things above.
4. A total surrender of will.
When the Spirit of the Lord moves into a man's soul, the Spirit does not surrender his sovereign will or curb his divine authority. And men who burn for God are those who bow in complete obedience to the Spirit who "yearns with envy in us" for control. (James 4:5) This submission is never given reluctantly but gladly chooses the will of God as that which is always "good, pleasing, and perfect." (Romans 12:2)
5. A genuine passion for others.
Men on fire by the Spirit will glow with warmth and compassion for others. The Bible reveals the Lord as an emotional being who rejoices over us with singing. (Zephaniah 3:17) Jesus, "for the joy set before him endured the cross." (Hebrews 12:2) God is passionate about us. And as we yield completely to the Holy Spirit our lives become channels of his love toward others.
Prayer: Oh Lord, like those saints at Pentecost, make us men of holy fire! Set our hearts ablaze so that we might shine as bright lights in this dark world. Ignite our spirit to burn with desire for You and make us burning beacons of your love for the world.
Five ways to be a man on fire, a son of that holy flame.